★★★★★
The Managers and Jessie are beyond kind and helpful. I recently had an incident when I was out of town, where a tow truck, delivering my camper back t...
★★★★★
A well kept, orderly storage facility run by lovely, responsive management. The facility offers 24/7 access and is very security conscious....
★★★★★
Managers are very accommodating. Well maintained .....clean...
★★★★★
Very nice people and great place to store ur things ...
★★★★★
We recently bought an RV and needed to find a place to store it fast! Our homeowners almost kept on warning us! We found Davenport Storage on the Inte...
More Google Reviews
Secure indoor storage, outdoor storage, and covered self storage for RV's, trailers, boats, and specialty items.
Take a tour of our state-of-the-art 17 acre facility in beautiful Santa Clarita Valley. We serve all of Santa Clarita, Saugus, Newhall, Valencia, Acton, Agua Dulce, and surrounding areas. You can choose from many additional services that allow for hassle-free storage for your property of any shape and size. There is 24 hour keycard access, 24 hour security camera surveillance, perimeter razor wire fencing, and onsite management, 24 hours a day, 365 days a year. We offer additional services like wash and wax, cleanup and prep, and we even have an onsite store. We're also a U-Haul Neighborhood Dealer!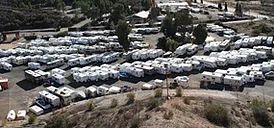 We have over 17 acres of outdoor space for RV's, trailers, boats, and containers of all shapes and sizes. We offer multiple dump stations, wash stations, and electrical outlets. Customers have 24 hour, year round keycard access. You'll find us on the east side of the Santa Clarita Valley – 5 minutes from the 14 freeway, and 5 minutes from Soledad Canyon.
Indoor storage is coming to Davenport! We estimate the indoor units will be completed by the end of 2017. Contact us to reserve your space. We also offer fully weatherproof indoor/outdoor storage units in sizes: 8×5, 8×10, 8×20, and 8×40.
Drag the "A" marker to your location. Your driving directions will be displayed underneath the map.